Fall Itinerary 2018 Overview
Click on the Day for detailed daily events.
Arrive Paro, check in to Nak Sel Resort, full day photographing and touring popular and little-known sites around Paro, including the our first dzong, centuries old temples and just strolling through the small market town of Paro. Since we are two-to-a-car you are the captain of your own ship, just take your time getting comfortable in your room and then your own personal guide and driver will make suggestions for a great day of cultural exchange and photography according to your personal schedule.
Pre-dawn hike to Tiger's Nest with Bhutanese guide by your side to carry gear and urge you on, and if he is there you will meet with Robin's friend, the Taktsang Lama. Hot picnic breakfast overlooking the temple as the sun rises and young monks light the morning smoke offerings. Lunch back at Nak Sel Resort and then seek out sights that you didn't see yesterday.
Paro to Thimphu: Two hour drive to Thimphu, now a burgeoning Asian city but still plenty of things to see and do. (We only spend one night here so we can move on to the East where the "Authentic" Bhutan awaits us. Check the list of favorites on the detailed description of this day. Picnic lunch beside the roaring Cheri Chuu River just below Cheri and Tango Monasteries. Afternoon Thimphu touring.
Thimphu to Wangdi via Punakha Dzong: Halt at DochuLa Pass (108 chortens), lunch overlooking Divine Madman's Temple, on to Punakha Dzong—the Vatican of Buddhism in Bhutan—then on to Wangdi, stopping whenever your photographic eye catches a good scene and to interact with locals.
Wangdi to Phobjhika: Through the Black Mountains—a forest of oak and rhododendron—to one of the most scenic landscapes in all of Bhutan, Phobjhika Valley. Herein lies Gangtey Monastery, established in 1613. One-hour hike through the forest to lunch at a farmhouse and then visit Khewa Temple (built in the 14th century) for private puja (ceremony) to bless the tour. Rainbow is a sponsor of this temple so interior photos are allowed—monks chanting, horns blaring, cymbals clashing, etc. Then visit the monastery's incense "factory."
Phobjhika to Trongsa: Robin's favorite drive in Bhutan, through PeleLa Pass draped in prayer flags, dense forest, past a Nepalese-style chorten with smiling eyes, and dramatic rivers at the bottom of green gorges where no man has ever set foot because of the deities that reside there. At Trongsa visit the Dzong and Royal Museum and walk the quaint streets of the village.
Trongsa to Domkhar: Via YotongLa Pass, destination Domkhar Village—many stops along the four-hour drive. Arrive Chumey Valley Nature Resort for lunch and two night stay, then each car visits a different farmhouse for tea, cultural exchange and explanation of Bhutanese life in a farmhouse.
Morning back to same farmhouses for breakfast and help kids get dressed for school. Walk with the kids to school, interact in classrooms and have tea with principal and teachers. Afternoon archery and kuru (lawn darts) games with our guides and drivers against local villagers, then awards ceremony around a bonfire singing and dancing and drinking ara.
Domkhar to Jakar: In the early morning, just an hour's drive from Domkhar, we will stop at the local Yathra (cloth) handicraft co-op outlet, the best place to buy authentic Bhutanese souvenirs. Then on to Jakar where we check into our hotel and then go to the first day of the Thangbi Mani festival (AKA Fire Festival) at the Thangbi Monastery, built in 1470. On this day monks will set fire to two huge haystacks and pilgrims will run between the conflagrations seeking purification of sins and blessings of local deities. Thousands of Bhutanese turn out for this festival (and very few tourists) and with your personal guide at your side you can spend several hours roaming the grounds interacting with families dressed in their finest ghos and kiras, roam the "Flea Market" of blue-tarp tents shopping for souvenirs, and try your hand at the carnival-like gambling tents where even red-robed monks throw darts and play card games.
Jakar and Bumtang valley touring: Today is spent at your leisure checking out any of a dozen interesting places in Bhumtang valley, the cultural and religious heartland of Bhutan, or you can return to the festival and watch Buddhist monks dressed in colorful costumes whirl their way across the courtyard. (See full day itinerary for list and more details of these places.) Lunch at the Himalayan Pizza joint. We are at this hotel for two nights, good place for laundry service, wi-fi available in the lobby.
Jakar to Mongar: Only 200 foreign visitors a year venture beyond here. Spectacular white-knuckled eight-hour drive stopping whenever you like in villages, forests, and riversides. Lunch at a roadside restaurant, tea/coffee breaks wherever the scenery appeals to you—guide and driver at your service with folding chairs. The cars will "leap-frog" from cultural exchange to scenic overview, to "I need to find a bush!" bathroom breaks. Check into Mongar hotel for two nights.
Full day touring Mongar: Start with attending opening assembly at Mongar High School and observe the singing of the national anthem and the national prayer. Break into couples and attend classrooms of your choice—you might be asked to lecture on your personal occupation. Then on to the primary school to be the guests of honor at their presentation of their annual on-stage cultural program of song and dance used to raise money for their annual picnic. Visit classrooms and interact with students. Then lunch back at the restaurant then on to an ancient temple where elderly spin huge prayer wheels and chant mantras, also known as an adult day care center. This temple is next to a Pre-K school and a visit there always brings smiles as the tiny students perform modern dance and songs for us. Cultural immersion at its best.
Mongar to Trashigang: Five-hour drive with plenty of stops--you are the captain of your ship. Lunch upon arrival at the hotel then sightseeing in Trashigang, the second largest city in Bhutan but a place where you will probably not see another foreign visitor.
Exclusive full day yak herder festival in the courtyard of Phongmey Temple. The Brokpa people trek for two days to get to us! and bring all of their festival costumes including a two-man, four-legged yak. You will be asked to lend a hand in the serving line as we feed over a hundred Bhutanese villagers and yak herders. Photography allowed in temple, join in folk dancing. Second night in Trashigang.
Trashigang to Indian border at Samdrup Jongkhar: seven hour drive down out of the Himalayas, very scenic, through the campus of Sherubtse Royal University in Kanglung. Lunch in a restaurant in a colorful small village along the way. Tea/coffee breaks wherever the scenery appeals to you. Check into last hotel for parting dinner with our guides and drivers.
Border to Guwahati airport: Indian cars pick us up early morning and drive three hours to the airport at Guwahati for tour departure back to Bangkok.
Next: Start reading our fantastic Fall Tour Itinerary from Day 1 all the way across Bhutan to Day 16!
Have Questions? Please Email Robin!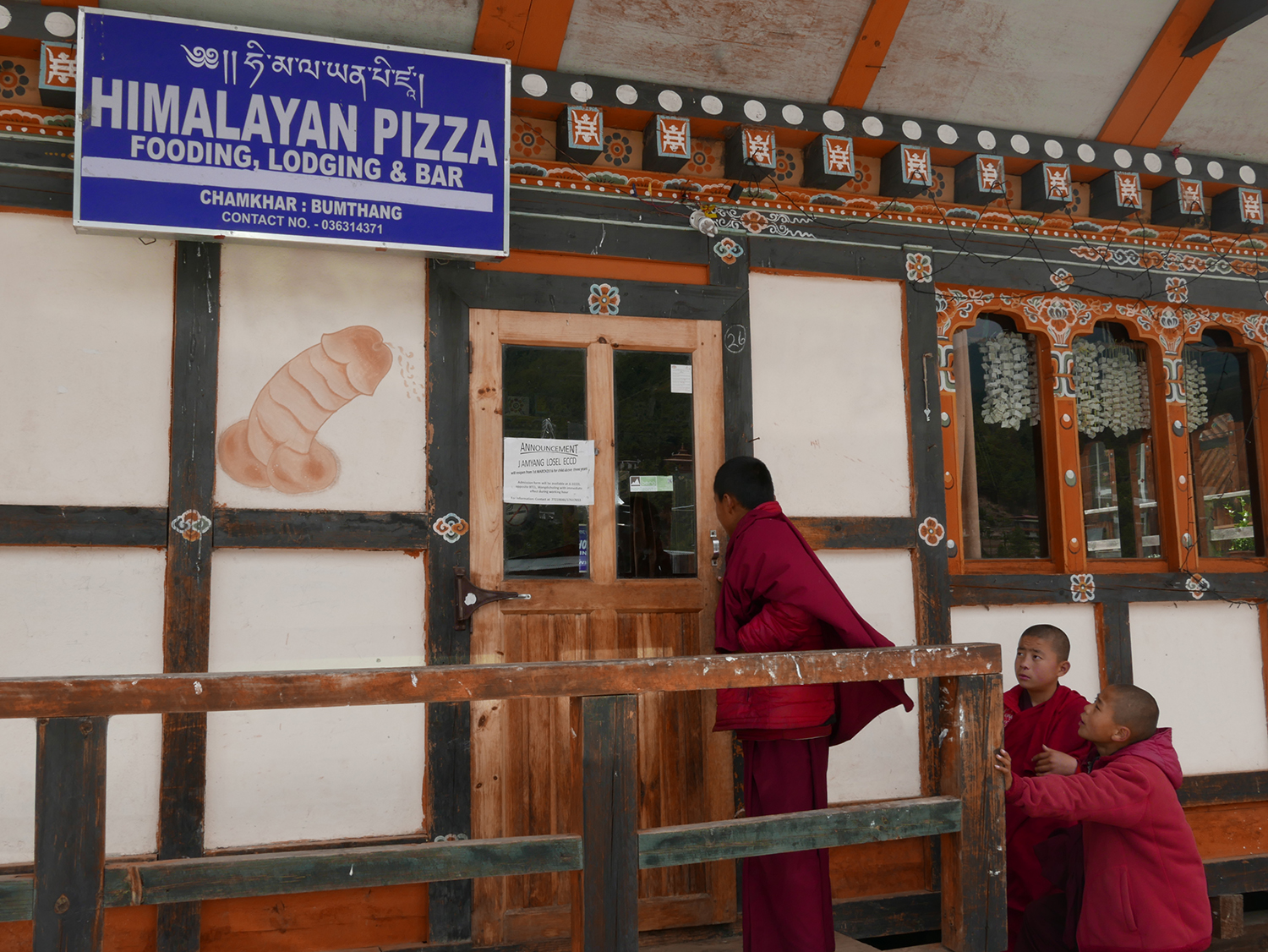 If our Spring and Fall tours dates are not convenient for you, please contact us for personal tour arrangements! We arrange tours throughout the year.
So what's the difference between the Spring and Fall tour?
Our 15-day-in-country spring and fall tours are identical in terms of places we visit, hotels and special functions like our two small-village mini-festivals. The differences are seasonal weather and type of farming activity.
Spring will find the fields green (the mountain forests are green year-round) and rhododendrons in bloom in the high passes. Temps are same as fall, mid sixties (F) during the day, mid fifties at night. In the west think southern California, warmer in the east at lower elevations. We will usually not see snow or ice, maybe a 10% chance of snow in the higher passes. There are some mornings when fog banks roll through the mountains making for fantastic landscape photography.
Fall will find the fields are bussing with activity during the harvest, most of it done by hand with hand sickles and winnowing wheat from baskets thrown into the wind. (The Bhutanese love to have foreigners try their hand.) Red chili peppers dry on the tops of roofs. The monsoons have come and gone with little threat of rain—most smaller rivers remain swollen whitewater. There are days when white billowy clouds float in a sea of cobalt skies. Temps are same as spring, mid sixties (F) during the day, mid fifties at night. In the west think southern California, warmer in the east at lower elevations.
So your choice of tour should be more based on your personal calendar rather than trying to pick the best tour in terms of weather and events.